Ned Barnes
The Ned M. Barnes Northwest Room is named in memory of Ned Barnes.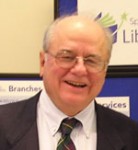 Ned Barnes served on the Library Board of Trustees starting in July 1988 when he was appointed to fill another trustee member's unexpired term. He was reappointed in 1991 and served two five-year terms. He was again reappointed in 2003 and served until his death in April 2011. He was the longest-serving board member the library has ever had and was truly dedicated to the health and vitality of the library in Spokane.
A passionate advocate for the Library, Ned spread the word about library services everywhere he went, converting many of his friends and colleagues into library users and advocates. In August, 2010 the Washington Library Friends, Foundation & Trustees Association honored Ned with its prestigious Distinguished Service Award for Trustees. The award recognized Ned's "long and faithful service" to the library and his "wisdom, sound judgment and creative ideas in instituting library practices which have resulted in improved library services and efficiency."
Spokane Public Library is truly grateful and honored to have known and worked with Ned Barnes.