Northwest Room exhibits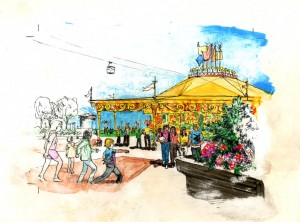 The Northwest Room displays permanent art from the collection, including Catholic Ladders, "Bird's Eye" or panoramic maps of Spokane, and original artwork. The room also includes five display cases, which feature temporary exhibits, which rotate several times a year.
Current Exhibit
Immigration in Spokane
August 2018-October 2018

This exhibit was created by an Eastern Washington University graduate history course on immigration taught by Prof. Nydia Martinez. The four graduate students, who each created one section are Elizabeth Shaw (Chinese), Chelsie Price (Japanese), Whitney Wyngaert (Eastern European) and Jessica Silva (Latinos). Materials have been gathered from a number of different sources.
Visit the Northwest Room today to learn about the history of immigration in Spokane!
Northwest Room Hours:
Closed Sunday and Monday
Tuesday: 1pm – 8pm
Wednesday: 1pm – 6pm
Thursday: 10am – 6pm
Friday: 1pm – 6pm
Saturday: 1pm – 6pm   
Past Exhibits
May 2018-July 2018: Mapping the World
November 2017–January 2018: Adventures and Opportunities in the Great West
August–October 2017: Greetings from the Northwest
May–July 2017: The Publishing Journey of Lewis and Clark's Journals
January–May 2017: The Search for the Northwest Passage